Celebrating 10 years of YouTube
Remember life before YouTube?
Ten years ago the first-ever video was uploaded to YouTube. The 18-second clip, entitled "Me at the Zoo," featured site co-founder Jawed Karim standing in front of the elephant pen at the San Diego Zoo.
Since the birth of YouTube, video marketing has changed the way people consume content online. Now the second largest search engine in the world (to Google), YouTube boasts over two billion searches per day. Today, YouTube has more than one billion users, and some 300 hours of video gets uploaded every minute. Half of YouTube views are on mobile devices.
YouTube has also led to the desire to 'go viral'. As our much loved Marketoonist Tom Fishburne captured (below), he said "The flash mob is symbolic of the mob mentality of marketers trying to go viral. Marketers see the 38 million YouTube views of T-Mobile dancers in Liverpool Street Station, and want to replicate that for their brands."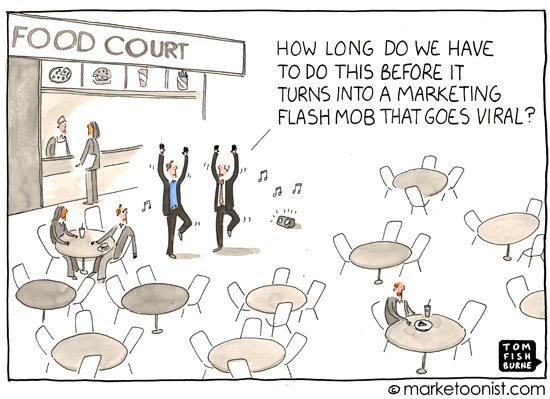 Yet, as the more sensible among us know – posting a video online does not guarantee views – the content needs to be pushed and sharing via social channels encouraged. A video also does not work in isolation, and media planners do not spend working on something to be a 'one hit wonder'.
Gloucester PR Agency 10 Yetis researched the 2012 Gangnam Style phenomena – the first video to hit 1 billion views – and attributed it's viral success not to celebrity tweets (initially) but as a result of YG Entertainment (the Korean record label) spending a significant amount of time organically growing an engaged audience, so that when the right song came along, they had a large platform on which to seed the campaign. YouTube channel subscribers, an email database and a key influencer following on Twitter were all key to a pre-launch teaser and subsequent communications.
To celebrate their anniversary, YouTube have created this short video montage. Take a look…
---
Back to listings